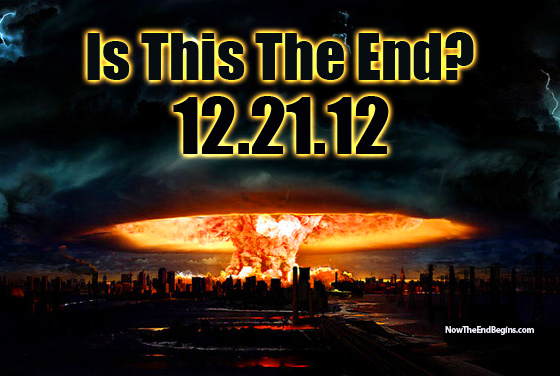 Oh hey guys! Everything fine? Hehehe, we just passed the
121212
special date that wouldn't never have again!!
SAD :(
Do you guys trust
21th of Dec our earth going to end?
Hmm for me, i'm
dubious
it! But seem like Real, but seem like FAKE too...
i don't know i should trust or shouldn't :(
Mayan prophecy said:
"2012 end of the world is getting closer, and the Mayan prophecy evolved into a little bit of the real facts. First the earthquake in Japan on December 7, 2012, and December 11, 2012, the military conflict in Lebanon."
and these all prophecy already achieve.. OMG and here's the next prophecy
"December 18, 2012, the European outbreak of unprecedented influenza virus. December 20 Yellowstone eruption, six countries declared war. December 21 sky dust obscured the Earth into darkness, Ice Age"

And lot of people start to mad rush to

buy candles, matches, hoarding food, burrow

, it is incredible!!! Some people hide in

forest cultivation

, living a

primitive

, creat of

Noah's Ark

, to greet the arrival of the end of the world! However, astronomers believe that in the distant future, the sun's fusion fuel is exhausted, it will expand into

a red giant and swallow the Earth

. But in this case, the end of the world at least

50 million years later before come!!

Whatever is real or not, i think we should start to

treasure what we have now!

Don't regretted it after we lost!

And stay Happy to spend everyday!

Save the earth,

because we only live once!
And of course i hope the world
not going to end on 21th of dec
! Everybody don't wish to DIE so fast, I still have a lot of things yet to be completed!
I haven't get a boyfriend, haven't get married yet, haven't get baby!
LOLLLLL
I HOPE///
Don't you think so?!?!?! :(
OH, DEAR LORD lol
And if the World really going to end, please
!!!!RUN FOR YOUR LIVES!!!
PRAY HARD & TREASURE WHAT WE HAVE NOW.
LOVE & PEACE